'Back to School' collection goes plant-based
As we try shift to a more sustainable world, we continue to explore and trial materials made from plant-based materials. We're working towards expanding our plant-based collection of shoes and offering alternative materials.
In July 2022 we're introducing a plant-based material as part of our  100% Vegan range (yes even the glues) which is a lower-impact alternative to PU. This specific material is made from a mix of corn and viscose. The corn was grown for non-food purposes and is 100% GMO free, while the viscose is Forest Stewardship Council (FSC) certified and sourced from ethical forests. The material is PETA and vegan approved.
As this material is responsibly sourced and bio-based, it has lots of environmental benefits. Check out some of the key highlights below: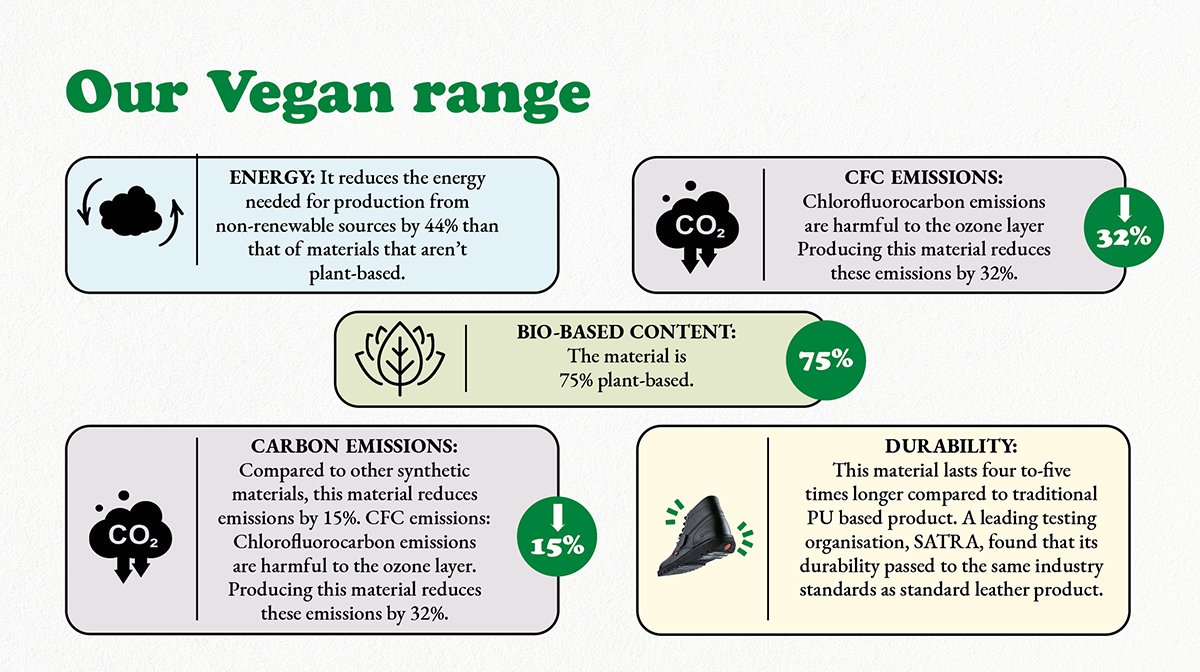 How does it compare to leather?
SATRA is an independent research and testing organisation established in the UK in 1919.  SATRA is considered a leading technical authority for footwear and leather. Companies from these industries can become members of SATRA to gain exclusive access to SATRA test methods, accreditation, consultancy, research facilities, technical training and factory production management systems. A number of SATRA systems are recognised in the supply chain as setting industry standards for quality and production efficiency.
As part of our testing process we are really happy to say that our plant-based leather tests on-parr with our existing leather range when it comes to durability. We've also kept the prices the same as our existing range as we don't believe you should have to pay more if you want a different choice.
We're starting our plant-based leather range off with 23 of our best-selling School styles and are working in the background to expand this into more of our range at the end of 2022 and into 2023.
We've set ourselves a target of expanding our Vegan footwear offering to be 35% of the range by 2023, offering consumers more choice, without compromising on quality, price or accessibility.
How can I tell the difference?
We've made really subtle changes to our best-selling styles and quite frankly we didn't want to change them too much. You love them and we love them as they are, we just wanted to offer them in a plant-based leather alternative.
Instead of our famous red and green branding details like our side tabs and sole plugs, we've updated these to be all green. For youth and adult styles the sockliner has a subtle 'vegan' deboss and for Infant and Junior styles we've added the vegan call out to our feature and benefit design as seen below.
When can I buy them?
Our plant-based leather, 100% Vegan School shoe range will launch in July 2022.