Reskinned is our partner when it comes to extending a product's life. They collect unwanted clothing and footwear and sort them by hand (old school, but it's the best way). Depending on their condition, they're then resold, repurposed or recycled. Reskinned are linking up existing solutions with new tech ideas to create more options for people and brands to rehome unwanted clothes. Through resale, repair and innovative recycling, they're realising a more sustainable fashion future.

If they can be worn again, they will. Reskinned make any repairs and clean up anything before it hits their resale platform or pop-up events. To find out more head to their website.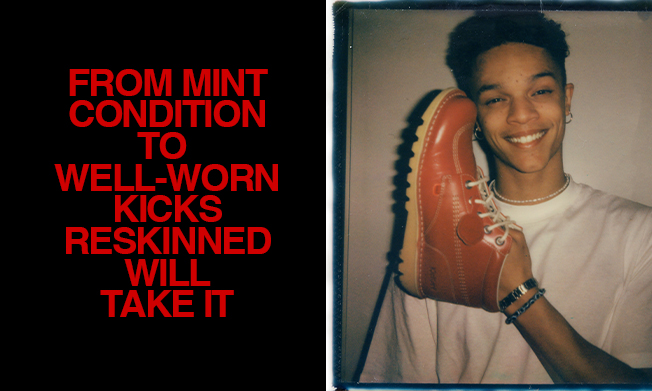 Why we're on Reskinned
At Kickers, we've always prioritised making quality footwear. But sizes and style change – YOU change – and that shouldn't mean there shouldn't be a way to extend your shoe's life. Through our partnership with Reskinned (and you, of course!) we're extending the life of our products.
Once you send in your shoes, Reskinned will repair and recondition them for their new owner or recycle them. It doesn't matter if your Kicks are in mint condition or have seen better days, Reskinned will make sure nothing goes to waste.
Send 1 pair back and receive £15 credit, 2 pairs back and receive £25. *Redeemable on a minimum spend of £60.
Keep them kicking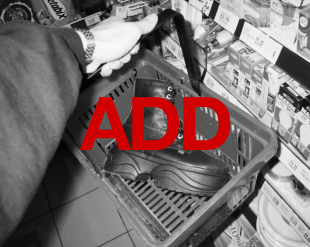 1. Add the Kickers footwear you want to return to your takeback basket. (This can be any Kickers footwear purchased in the UK, directly from us or one of our retail partners).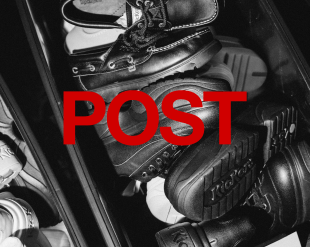 2. Package them up and take them to the courier drop point where it is free postage.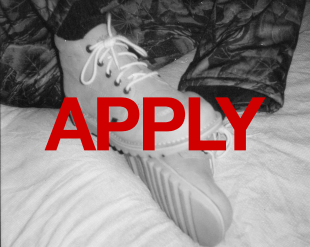 3. We'll verify your trade-in and send you an e-voucher.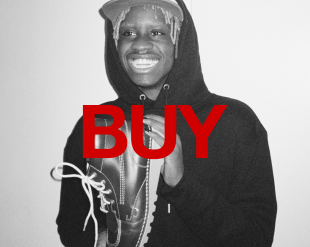 4. Use the credit to purchase a new pair of Kicks at Kickers.co.uk!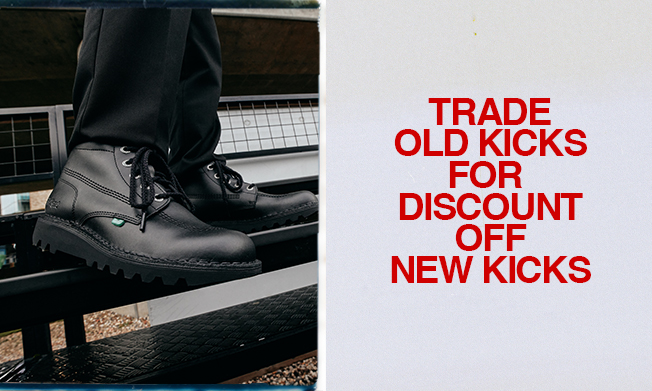 Sustainability at Kickers
We're working hard behind the scenes to reimagine a better way of making footwear. We've set ourselves some ambitious goals –and are constantly evolving and innovating in our ways of working, choice of materials, and how we build a diverse, accepting and creative space for our communities.
We realise there's a lot to be done, but we're committed to continually challenging ourselves to do better. As we learn more about resource circularity, we're excited to offer more ways to give our products another life. Where others see problems, we see opportunities to find solutions.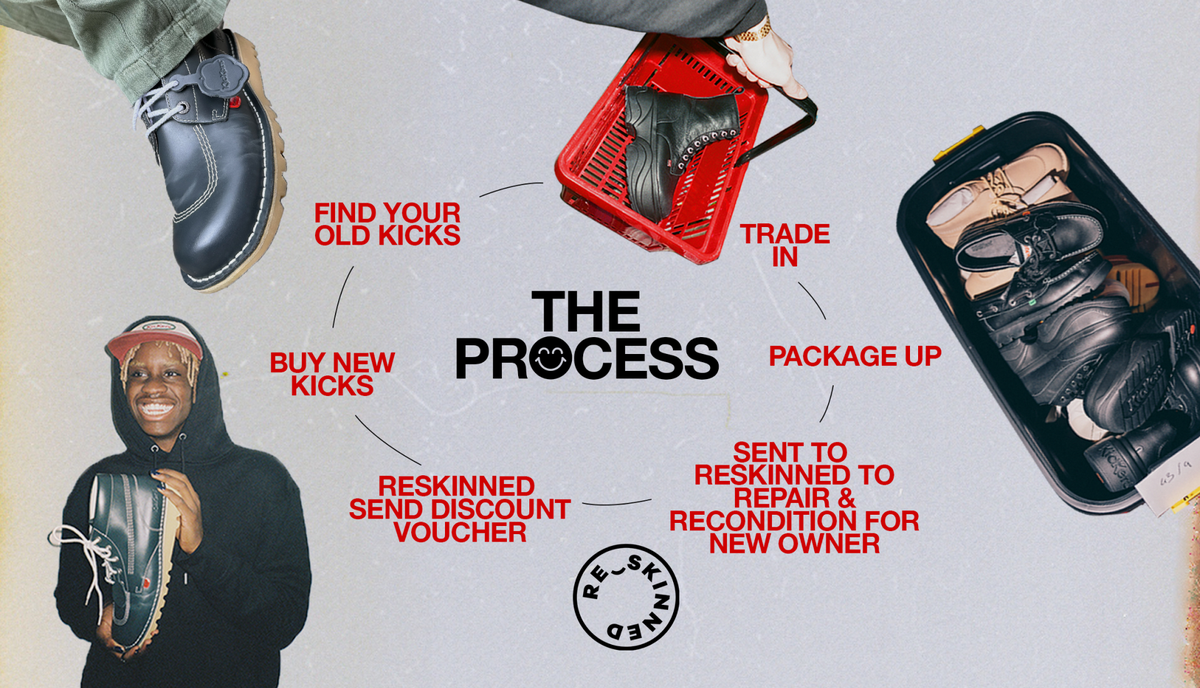 FAQs
It's estimated that the fashion industry generates 92 million tons of textile waste every year*. To start tackling this, we're working with Reskinned, a company who has made it their mission never to send anything to landfill.
Reskinned enables you to trade-in the items you no longer want, don't fit, or that have reached the end of their wearable life. They'll find them a new home or recycle them if they've seen better days.
Our customers will be able to trade in their used Kickers UK footwear in return for a discount voucher code, redeemable exclusively at kickers.co.uk.
Follow these simple steps to release new life into your old items
Add the Kickers footwear you want to return to your takeback basket (this can be any Kickers footwear purchased in the UK, directly from us or one of our retail partners).

Package up them up and take them to the courier drop point

Reskinned will verify your trade-in and send you an e-voucher

Use the credit to purchase new Kicks at

Kickers.co.uk

!
The returns system is designed to reduce resources and the carbon created by trading in. We don't want to create unnecessary packaging, so we'd like you to grab a fashion delivery bag or box that you already have. Please ensure that it's clean, robust and fits within the size criteria below:
Dimensions = 30 x 30 x 50cm. Weight 2kg
When you complete the takeback form, Reskinned gives you a convenient courier option based on your postcode. They will then email you a postage label. If you haven't received this, please check your spam box and if you still do not have it, email takeback@reskinned.clothing quoting your takeback reference.
If you print the label at home, stick your label onto the package and take it to the drop point for dispatch. Make sure you get a receipt, so Reskinned can help in the unlikely event there is a delivery issue. Delivery to us will be made via Evri courier in 3 easy steps - simply choose your method by choosing parcel drop off, locker drop off or courier collection and track your parcel to us at every step. For more info, please see the courier website for more details www.evri.com. You will receive regular updates at every step way of the process, you'll see the message 'On its way back to the retailer' as your final tracking point.
Yes! It doesn't matter if it's well-worn Reskinned will still take it.
Once you have dropped your trade in at the courier point the package will be returned to Reskinned. Provided your items comply with the takeback rules Reskinned aim to issue your credit within 10 days of arrival at the warehouse.
Voucher codes will only be released by Reskinned for genuine Kickers UK footwear which were originally purchased in the UK.
Reskinned are responsible for issuing the voucher code to you. Voucher codes will be issued within 10 days of Reskinned receiving a pair of Kickers UK shoes (in compliance with the take back rules). If you have not received your voucher code within 10 days, please contact takeback@reskinned.clothing
The Kickers shoes sent to Reskinned must be a pair of shoes. A voucher code will not be released for single or unpaired shoes.
A minimum spend of £60 on Kickers.co.uk applies for the voucher code to be activated.
The Voucher code can only be used for Kickers footwear items on Kickers.co.uk.
The voucher code value is dependent on the following:
One pair of Kickers shoes returned = £15
Two pairs of Kickers shoes returned = £25
The voucher code can only be redeemed against a single transaction. If multiple items are being purchased under one transaction, the total voucher value will be deducted from the total value of Kickers shoes being purchased.
To redeem your voucher, you must be enter the code in the promo code section in the checkout stage at Kickers.co.uk
You are only permitted to send two pairs of Kickers shoes per Reskinned Takeback transaction.
Voucher code can only be redeemed against full price items.
Voucher code issued cannot be used in conjunction with any other discount, offer code or voucher.
Takeback voucher codes are valid for 9 months from date of release.
Takeback vouchers cannot be honoured retrospectively if the code is not used at time of purchase.
No further voucher code will be issued to you if you return any Kickers shoes which were purchased using a voucher code. The voucher code will be deemed used.
Only UK customers are eligible to participate in the Kickers takeback programme.
takeback@reskinned.clothing should be contacted if your voucher code does not work.
Voucher codes are for personal use only and cannot be exchanged for monetary value or transferred.
Kickers reserves the right to amend these terms and conditions at any time, without any notice.
Reskinned Limited operate the takeback programme for Kickers shoes and by sending your shoes to Reskinned you agree and understand that Airborne Footwear Limited (trading as Kickers) do not have any control or responsibility over the take back programme.
Please allow up to 7 days from the time you returned your item, you will receive communication once returned to confirm your parcel's journey to us.
It's important to securely wrap your parcel to prevent anything moving about in transit. You want your package to arrive in the same condition you left it in. Learn more on how to package your parcel up via www.evri.com to ensure your precious Kicks reach Reskinned safely.

When your parcel is on it's way to Reskinned, you'll see the message 'on it's way back to the retailer' as your final tracking point. From this point, you'll know that we've handed the parcel back to Reskinned, you'll be notified by Reskinned once your parcel is received, this is when your discount code will be created and sent.

It's FREE! We pick up the cost of the postage so there is nothing to pay for this service. You are doing enough by simply committing to using the Reskinned service as part of our promise to reducing environmental impact with meaning. Should you have any further queries around cost or return services in general, please see our
Returns
policy.
If you need to contact Reskinned, please email takeback@reskinned.clothing and their customer services team will get back to you.
If your question is regarding a takeback that you are awaiting a credit for, please remember it can take up to 10 days to process your return from the time you drop it off at the courier collection point.
Please only contact us regarding pending returns after this period has ended. Remember to quote your takeback reference, which can be found on the emails we've sent you.