We're buzzing to be teaming up with Big Fish Little Fish throughout 2023 and will be hitting up Coventry and Ally Pally family raves this month!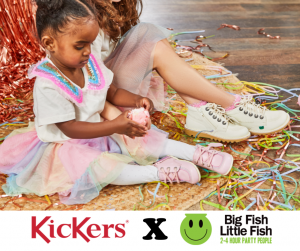 Kickers has music running through its DNA. Since our creation, we've forged strong links with the music world and established ourselves as the preferred shoes for artists from David Bowie and Miss Dynamite, to Jarvis Cocker and the Artic Monkeys, to name a few…
Endorsed by these legendary artists, Kickers shoes have remained in tune with the history of music ever since so this collab between Kickers Kids shoes and 2-4 hour party people, BFLF is perfectly in step!
Since 2013, the award-winning Big Fish Little Fish have brought raving to the family massive. An independent, grassroots music and events crew of seasoned ravers and parents that put on family raves with all the freedom and excitement of a mini-festival, right in the heart of cities and towns across the UK.
You'll be able to throw some shapes on the Kickers dance floor, then have your photo taken at our photo booth to be in with a chance to win some Kids Kicks, perfect for day raving!
The first two events kick off this month (May)! Hit up our socials for more information and keep a look out for giveaways to win tickets and kids kickers this month…
COVENTRY Big Fish Little Fish x Desi Beats 
Family Rave 
21st May
2pm – 4pm
Alexandra Palace x Big Fish Little Fish Great Big Birthday Bash Family Rave 
27 May 
1:30pm – 4:00pm
See you on the dance floor!
https://bigfishlittlefishevents.com/