Our new Vegan Patent range has just landed!
You loved our matte Vegan range so much we worked hard to find a patent leather alternative too, so no matte what your School style, we have options for you.
We've expanded our Vegan range!
As we try shift to a more sustainable world, we continue to explore and trial materials made from plant-based materials. We're working towards expanding our plant-based collection of shoes and offering alternative materials.
In 2022 we introduced a Vegan leather alternative range, made up of 23 of our best-selling styles which you LOVED and we won a Drapers Footwear award for. One thing our previous range didn't offer was a patent leather alternative though and we know patent styles are very popular in School. So we're really excited in 2023 to be able to expand our Vegan ranges and now offer a Vegan patent leather alternative material too!
This patent leather alternative upper is Vegan approved, made up of 24% plant-based materials (including a mix of corn and cereals), 40% recycled polyester and 36% petroleum-based PU (how we get the glossy-look).
The upper material vs Standard PU
From 'cradle to gate' (extraction and production prior to the consumer), our Susterra propanediol (100% biobased, and petroleum free compound) produces less greenhouse gas emissions and consumes less renewable energy compared to two of the most common compounds used in standard PU:
Our bio-based PU vs Propylene oxide-based propanediol produces 56% less greenhouse gas emissions and consumes 42% less non-renewable energy. Propylene oxide-based propanediol is a petroleum compound used in standard PU.
Our bio-based PU vs Butanediol (BDO) produces 52% less greenhouse emissions and consumes 32% less non-renewable energy. Butanediol (BDO) is a petroleum compound used in standard PU.
*based on Upper material tests only
How does it compare to Patent leather?
SATRA is an independent research and testing organisation established in the UK in 1919.  SATRA is considered a leading technical authority for footwear and leather. Companies from these industries can become members of SATRA to gain exclusive access to SATRA test methods, accreditation, consultancy, research facilities, technical training and factory production management systems. A number of SATRA systems are recognised in the supply chain as setting industry standards for quality and production efficiency.
As part of our testing process we are really happy to say that our plant-based leather's durability passed to the same industry standards as standard patent leather footwear.
We've also kept the prices the same as our existing range as we don't believe you should have to pay more if you want a different choice.
How can I tell the difference?
We've made really subtle changes to our best-selling styles and quite frankly we didn't want to change them too much. You love them and we love them as they are, we just wanted to offer them in a plant-based leather alternative.
Instead of our famous red and green branding details like our side tabs and sole plugs, we've updated these to be all green. For youth and adult styles the sockliner has a subtle 'vegan' deboss and for Infant and Junior styles we've added the vegan call out to our feature and benefit design as seen below. All vegan styles will come in a green branded box, all leather ranges will continue to come in a red branded box.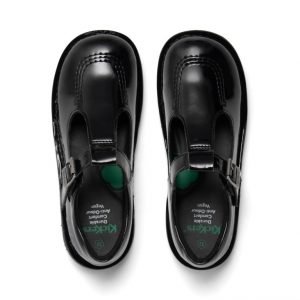 Infant & Junior sockliner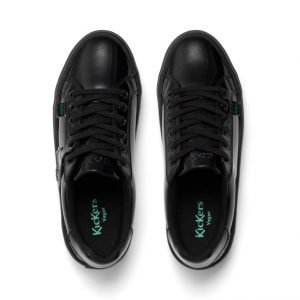 Youth & Adult sockliner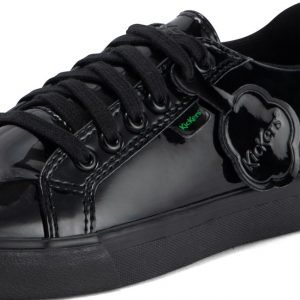 Black base, green writing for the branded tabs

Green shoebox with green printed tissue paper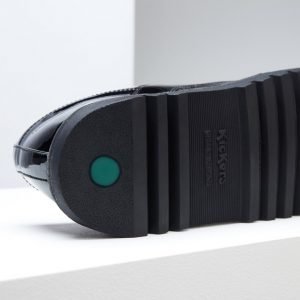 Double green sole plugs
Expanding the range
We set ourselves a target of expanding our Vegan range in 2023 and we're happy to say that you can now get a Vegan leather alternative in our Iconic Red, Navy and White Kick Hi's and also now in a Vegan leather alternative range.